"I'm Barack 'Obobble' and I Approve This Practice Session."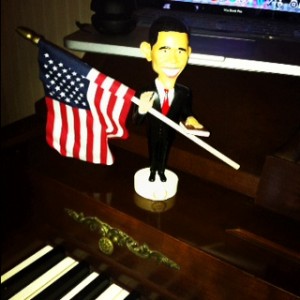 Meet my new practice partner; All the way from the Democratic National Convention in Charlotte, NC….BARACK OBOBBLE! Isn't he cute? My awesome pal, Tamara brought this Barack Obama bobble head figure back from the DNC for me. His head bobbles to the music while I'm practicing. Although he likes jazz, I think I have to learn to play and sing some patriotic songs for him in the near future! LOL!
Have to admit that I didn't get in any practice time yesterday. I spent most of the day trying to kick a cold that was trying to jump on me. Boy, I swear by these Wellness Formula pills by Source Naturals. They're basically just super vitamins but they work…for real! You have to take a whole bunch of them at the first sign of any imbalance. I'm feeling much better today.
I did get a chance to watch the Bobby McFerrin concert that was streaming live from Jazz at Lincoln Center last night. How cool is it that they are offering that option? Boy, Bobby such control over his instrument. How I strive for that. It made me want to get up and practice today!
I got a late start due to that fact that I had a huge amount of laundry to do today, but I got in a few hours of solid practice.
I started with my vocal warm-ups and then moved on to my Charlie Parker "Ornithology" transcription. The goal today was to be able to sing the first 16 bars of the solo cleanly, up to full speed with as close to perfect intonation as possible and without having to sing with the recording. I didn't make it through all 16 bars but I got through 12 bars and I'm pretty cool with it. I really took my time with this. First I played and sang four bars and a time, reading the solo from the Charlie Parker Omnibook. Then I sang with a slowed the transcription down to 50% and worked up to full speed in 10% increments on iRehearse. Accuracy is the main goal. Singing "at" the pitches and not making all of the articulations are not good enough for me anymore.
I took a small 20 minute break to walk around the corner to take in the goings-on at our neighborhood pub, Colonel Brooks Tavern. The tavern is closing tonight after thirty-two years in business. It is a great loss to the community. My husband hangs there all the time. It really is like the "Cheers" bar from television. Everybody knew your name. It's sad, but change is the only thing that is constant in life so we must move on. It was mad crowded in there and I only stayed and chatted with the hubby and our neighbors for a short time before coming back home to practice some more. I think Colonel Brooks Tavern got a fitting send-off tonight. We will miss you, "Brooks."
I came back and started working on the Ella Fitzgerald "How High the Moon" transcription. As I mentioned in an earlier blog, I worked on this transcription with my high school kids this summer during the Washington Jazz Arts Institute summer jazz program. We listened to the transcription slowed down and wrote out all of the syllables so that we could sound as close to Ella as we could! Transcribing scat solos helps to build a good syllabic vocabulary. Ella was the best. Her syllables flowed very smoothly and her articulations were very exact. Here's my syllable sheet from this summer: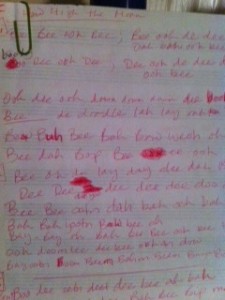 Yeah, I know…crazy! Eventually I'm gonna write out the solo transcription with the syllables under the notes like lyrics. I'll shoot for trying to get it finished next week. I'm working on memorizing the syllables so that I am able to sing an exact copy of her solo.
Next, I worked on playing major, minor, dominant and half-diminished chords around the cycle and then some ii-V patterns around the cycle.
I finished up the session by having a look at my newest composition. I'm still a little ways from being finished. It doesn't really have lyrics although I have some ideas sketched out. I'm going to need to add another section and I just have to figure out how it will fit in to what I already have finished.
O.K. I am officially tired! Until next time…See y'all!