Give the Drummer Some!
Just got back from what was an exciting installment of the Thelonious Monk International Jazz Competition. This year, the drummers got to strut their stuff. The only one of the twelve semi-finalists I was familiar with was Jamison Ross. I first saw him in the documentary "Chops" which they screened at the Jazz at Lincoln Center Band Director Academy the year I took the course for jazz educators. If you have not seen this movie, I would highly recommend that you do! It follows several high school jazz ensembles as they prepare for a trip to the Essentially Ellington competition.
Jamison made it into the top three today and will get to perform again tomorrow evening at the Kennedy Center. The other two finalists were Colin Stranahan and Justin Brown. There were so many fine performances today that I'm sure the judges (Carl Allen, Brian Blade, Terri Lyne Carrington, Jimmy Cobb and Ben Riley) had a super hard job deciding who the three finalists would be.
O.K., so who should sit in the row that me and my bud Amy Bormet were sitting in but WAYNE SHORTER!!!! I LOVE Wayne Shorter. My writing is influenced a great deal by him. I have even written lyrics to "Night Dreamer" which I think is my favorite Wayne Shorter composition although there are SOOOOO many good ones! So here is the picture Amy snapped on the down low while I was trying to hold myself together: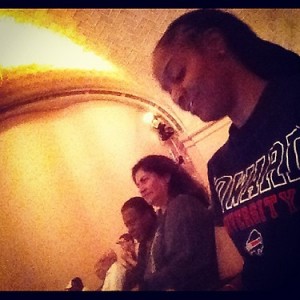 AWESOMENESS!  That is all! Peace.