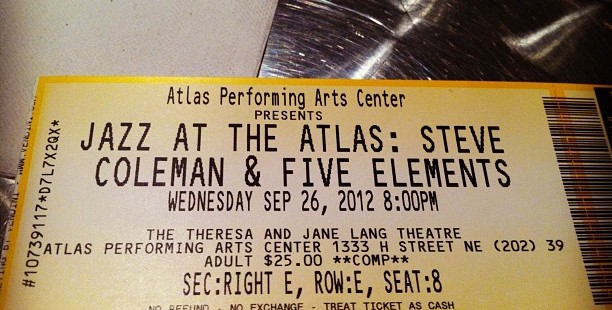 Music tHERapy, Steve Coleman, Izze Apple Soda and Other Various and Sundry Things
Started this session with vocal warm-ups from the Anne Peckham's The Contemporary Singer. Even after getting through the Beginning Warm-up for all voices and the first warm-up for high voices, I still didn't feel warm or agile, my intonation was not on point and I was not getting the smooth transitions all the way through my range. My false vocal folds are also acting really lazy and I'm going to have to go back to my exercises for moving them off to the sides and from on top of my true vocal folds.
At this point, because I was sounding a hot mess, I got really down on myself and proceeded to pout, sulk and contemplate giving up singing for good. I even told my husband that "I HATE singing!" I get really frustrated because I've never been a natural singer and I have to work really hard to be able to execute things that a lot of singers can do naturally. I know that it's going to take some time to get in shape and build my voice but the work is harder when you have to wade through all the mental stuff in order to be able to feel good enough about yourself to get the work done.
I took a break and played a little piano until I was ready to get back to work on my voice. There are SOOOO many different approaches to vocal technique and it's been hard for me to pin down a method or combination of methods that work for me. I really like the Estill Voice Method but while I'm going back and studying my notes and recordings from the course I took two years ago, I need some exercises and workouts that I can do right now to focus on my problem areas.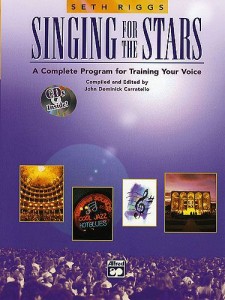 Seth Riggs' (vocal coach to the stars!) Speech Level Singing is another great vocal technique method. The emphasis is on the relaxation of the muscles surrounding the larynx so that it does not raise when you're singing higher notes and does not lower when you're singing low notes. The idea is that when you're speaking and you're using a range of pitches, you're not focusing on it like you are when you're singing. Your body is able to accommodate what you're doing naturally and your larynx stays in a neutral position. So in Speech Level Singing, the exercises help to train you to sing evenly and comfortably all the way throughout your range while keeping your larynx and the the surrounding muscles neutral and relaxed.
There is a book and 2-CD set titled Singing for the Stars by Seth Riggs. I broke out my copy and went through the exercises in the first half of the book. Some were easier than others and I started to gain a little confidence back! Afterwards, I did some of the exercises from Jeffrey Allen's Secrets of Singing. At this point, I was feeling really good, my placement was in a good place, allowing me to sing more smoothly throughout my range and my intonation was better. I ended up spending about an hour and a half on vocal technique.
Next, I sang through my Charlie Parker "Ornithology" solo a few times and then sat down at the piano to work through the patterns from the solo that I had written out in all the keys. The document turned out to be a total of six pages long. Here is a sample: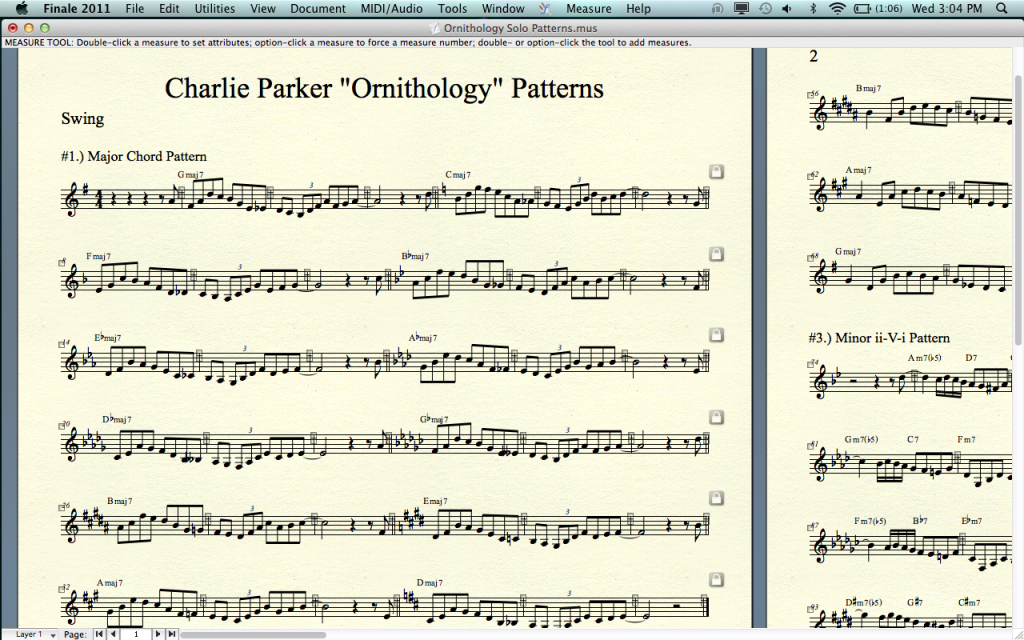 I have a lot more work to do on these. I have to play the note on the piano in order to be able to hear the transition to the next key in most of the exercises. When I wrote them out, I started with the pattern in the original key and then wrote them out in all the keys around the cycle. It's funny that in some of the other keys, the pattern sounds TOTALLY different to me…interesting…
When I couldn't spend any more time on these patterns (when my head started to hurt! LOL!), I moved on to some ear training/piano. I thought of a tune and then tried to play through the changes by ear. This is a really good exercise for me because I'm really bad at memorizing changes…even for my OWN compositions! Usually when I write, I'm notating at the same time so that I'm not really committing things to memory. I need to get better at this. I played through a couple of my own compositions as well so that I could refresh my memory and try to get through the changes without reading them.
I ended today's practice session by singing and improvising on "Just Friends" along with my Aebersold play-along track. One of the best ways to learn to do this is to JUST DO IT! I'm really trying to get over my fear of improvising and so I made myself have a little fun with the tune.
Later, Brian and I went to the Atlas Theater to hear Steve Coleman and Five Elements. It was the first concert of the season. Brad Linde (co-director of the Bohemian Caverns Jazz Orchestra and all-around cool guy!) curates the jazz series at the Atlas and has put together a fantastically adventurous season!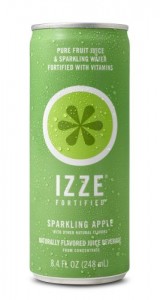 We got there early and had a chance to mingle with friends and other jazz heads before the show. Also got achance to take advantage of the snack bar. They now have those yummy Izze sodas! I had an apple one…mmmmm!
I had never seen Steve Coleman live before so I was really looking forward to the concert. I can't say that I own a lot of his music but I recently bought the Cassandra Wilson "Point of View" CD on which Steve Coleman is playing percussion and saxophone. His composition "Never" is my favorite song on the CD and Cassandra sounds great on this tune. I also got M-Base recording "Anatomy of a Groove" and Steve Coleman and Five Elements' "On the Edge of Tomorrow" at the same time.
Playing with Steve tonight were: Jonathan Finlayson (trumpet), Anthony Tidd (bass), and Sean Rickman (drums and DC NATIVE!! YAAAYY!). Although I can't say that I totally understood everything that was going on, the music was pretty awesome and at an incredibly high level. They played the very beautiful "Little One I'll Miss You" which Cassandra Wilson sings on the "Edge of Tomorrow" CD. I was really excited because I didn't expect to hear anything I knew at the concert tonight.
The music was very free and the ensemble was super tight and very in tune with one another. There were so many things I heard and liked, but I think my favorite thing was when they took piece of a Charlie Parker melody and used it in different way. It was very creative and was a great example of taking something that is old and making it new. The show was a great way to kick off the season. After the show, we hung out with friends at a spot on the now trendy H Street corridor. A good time was had by all!