Beds, Breakfasts and Improvised Music
Hi All,
The hubby and I are just back from a fantastic weekend in Baltimore, MD. We went up to hear bassist Michael Formanek's ensemble perform at the very funky, very hip Windup Space on W. North Avenue. My husband surprised me with an overnight stay in THE most beautiful and welcoming bed and breakfast. It's called Rachael's Dowry and is owned and operated by the most adorable brother and sister team ever! Norman and Tish have this thing on lock! The house is gorgeous, the food is amazing and the ambience is very relaxed. There are many delicate things around the house but it is not at all uncomfortable and you're not afraid to touch things and make yourself at home. Although our room was awesome and very comfortable, my favorite space in the house was the library. The bay windows overlooked the most charming garden, the high-backed chairs were most comfy, the room was just the right temperature and it smelled of cinnamon! Yummy! I hung out in there for a while yesterday afternoon reading music blogs and listening to the new Kurt Elling CD, "1619 Broadway: The Brill Building Project" (also yummy!).
Before the concert, we went to dinner at a very cute little restaurant within walking distance of the B&B called the Corner Bistro & Wine Bar. It's a very quaint space and the food was very good. They have an excellent corn chowder to which we added the option of lump crab meat. Sooooo good! The place was very busy and the waitress kept apologizing for it being so hectic but personally, I liked the hustle and bustle. Empty restaurants are boring.
Next we drove over to Windup Space, an art gallery, bar and live music venue. They feature lots of independent, experimental and improvised art. I just loved their crazy bandstand with its red curtains and zigzag tile floor. We met up and got to hang out with saxophonists and cool people Brad Linde and Sarah Hughes who drove up from the Washington, DC area for the concert.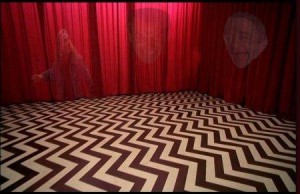 I have to admit that I was not familiar with Michael Formanek's music as the improvised music scene is more of my husband's forte. I didn't know quite what to expect and even though I didn't understand everything that was going on, I could recognize that the band featured amazing musicians who had complete control over their instruments and the music was at a very high level of performance and improvisation. The band consisted of: Craig Taborn, piano; Michael Formanek, bass; Gerald Cleaver, drums and Tim Berne on alto saxophone. They are all master musicians and it was a great concert. Brian scored a CD recording so I'll have plenty of opportunity to hear the compositions again.
Afterwards, it was back to Rachael's for a night's sleep in the HUGE four-poster king-sized bed. Sooo sumptuous! It was a great night's sleep. The mattress was just the right firmness for me and by bad back! This morning, we ate a delicious breakfast prepared by Norman, chatted with some of the other guests and made it back to DC safe and sound. Ahhhh…..
Peace.
Jess