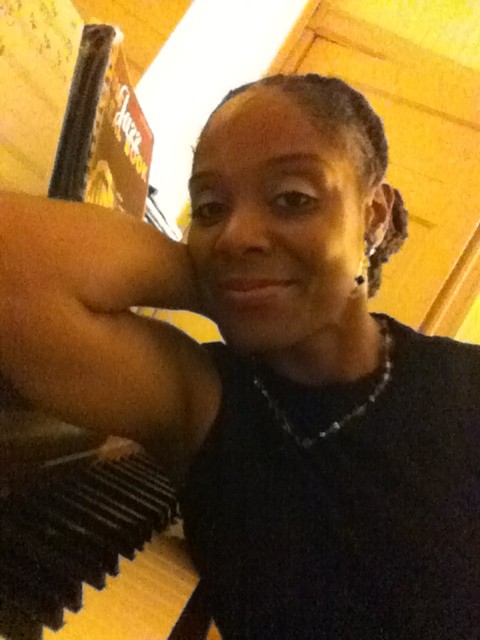 I'm Back!
It's been waaaayyyy too long since my last post…SORRY! Some other things needed my full attention and I am ashamed to say that I have not been practicing as I should due to those other things. I also caught the bug that was going around and was not able to get out of bed for a whole week! Anyway…enough with the excuses. Here's a quick rundown of what I've seen, heard and done since my last post:
October 18th – My hubby (along with a fine group of musicians: Thad Wilson, trumpet; Steve Synk, bass; Terence Arnett, drums) did a concert of Dewey Redman's music at the Gallery of American Art as part of their Take Five series. The concert took place in the Kogod Courtyard at the Gallery and I would highly recommend this spot as a destination in the city; not just to hear music, but to chill. When Brian and I arrived there right before his gig, there was a table full of cute little old ladies having their book club meeting. The courtyard is totally enclosed so that it can be used year-round. Even still, they have brought the outdoors indoors with all types of lush greenery all around the area. On the night of the concert they also had drawing lessons that you could participate in and a cart full of board games that you could play if you wanted…cool! Here is a link to a review of this concert: http://pinklineproject.com/article/brian-settles-quartet-plays-music-dewey-redman-0
October 21st – I went to hear the wonderful Rochelle Rice in concert at All Souls Church. Rochelle is a recent grad of the Howard University graduate Jazz Studies Program and a marvelous singer, composer and superwoman (she is mother to the awesome little baby Ruth)! She has a wonderful future ahead of her for sure.
Later that same night, Brian and I attended a surprise party for the bassist Tarus Mateen. His lovely wife managed to keep her secret and he was totally surprised! It was at a La Casbah Moroccan restaurant in Dupont Circle. The food was excellent and the music was the bomb. Tarus thought he was going to a gig so he had all of his gear and was ready to play! His wife invited lots of area musicians and the jam session was a raucous, joyous affair. When the belly dancer arrived, it really got wild! She had recorded music, but the band played over it and it was some of the most beautiful music…! An awesome time capped off by homemade tiramisu at the end. YUMMY!
NOVEMBER 6th (ELECTION DAY) – Could not sleep at all the night before. I was so anxious to vote! Hubby and I got to the polls at 6:38am before they opened at 7am. We didn't have to wait that long although they weren't the most organized once we got inside. We were in and out within the hour. We went to an election night gathering at the home of good friends and ate and watched the results unfold on the television. It looked like we weren't going to know that evening as it was getting late and everyone was getting tired so we decided to head out. In the car on the way home, they announced that Barack Obama had won the election and been re-elected as the President of the United States! A huge wave of relief washed over me and my eyes filled with tears. FOUR MORE YEARS!
November 7th – Got to hang out with vocalist Rebecca Martin, her husband the great bassist Larry Grenadier and their adorable son Charlie at the Atlas Theatre. It's so inspiring to see a couple make music together. They're great people and awesome musicians. Even though it was cold outside, I couldn't resist riding in the car on the way to the theatre with the windows rolled down blasting Stevie Wonder's "Signed, Sealed, Delivered!" FOUR MORE YEARS!
October 11th (Today) – I've just gotten back from a gig at the Capitol Hilton downtown. It was a function for the Howard University School of Social Work. It was a part of a big convention that's been happening over the course of the last few days. Lots of schools from all over the country with social work programs have come together for this gathering. It felt so good to sing! And it was great to play with such wonderful musicians! I did the Ann Peckham warm-ups and then sang through some scales with the Jamey Aebersold Jazz Ear Training recording. Then I sang through the Charlie Parker's "Ornithology" solo, Ella Fitzgerald's "How High the Moon" solo and Sarah Vaughan's "Sassy's Blues" solo twice. I spent about 45 minutes warming up. Since I got over the bad cold a few weeks ago, I am still riddled with a lot of mucus. I've been blowing my nose a lot and I still have some phlegm in my throat but it seems to be clearing out. I'm able to sing much more in tune than I have been the last couple of weeks. Even though I didn't have a sore throat, it was hard to sing due to the mucus and the sinus pressure. But I'm feeling much better now and it was a great gig tonight. I like these kinds of situations. You're basically background music so you can do whatever you want. I had some fun and really took some chances tonight! FUN!
Well, I have LOTS to do tomorrow so I'd better turn in. On Thursday, saxophonist Javon Jackson is receiving the Benny Golson Award at Howard University and I'm in charge of designing the program booklet and having it printed. Yeah, another one of my side gigs. I'm on that hustle, y'all! So I have to get up super early tomorrow to get the print order in. Also, I may have some exciting news soon so stay tuned!
Jess