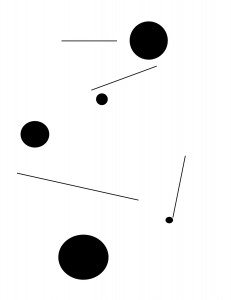 "Between the Lines and Dots" is inspired by Paul Laurence Dunbar's poem "When Malindy Sings." Dunbar acknowledged that the poem was a tribute to his mother's spontaneous outbursts of singing as she worked in the kitchen and the poem speaks to the natural ability of black people to raise their voices in song.
In the piece, Miss Lucy (a white female) is attempting to sing from her music book. The sounds she makes are more noise than music and she is told to be quiet so that the speaker (a black servant) can hear Malindy do some "real" singing.
While there are many themes and subjects touched upon in the poem (racism, whites' assumption of intellectual and biological superiority due to being educated, religion, etc.), my reasons for using Dunbar's tome as a jumping off point for my own intellectual and musical pursuits is not as deep-seated.
I have been intrigued by this poem from the moment I first heard the Abbey Lincoln Straight Ahead recording on which she delivers a brilliant version of the poem set to music by the equally brilliant Oscar Brown, Jr.
Easy 'nough fu' folks to hollah,
  Lookin' at de lines an' dots
I had never heard music referred to in those terms before. Because I had been formally studying music from my freshman year in high school up until the time I discovered that recording some eight years later, I have to admit that I didn't know if I should have been offended by Dunbar's sentiment.
There is also another reference to trained musicians a little later in the poem:
Oh, hit's sweetah dan de music
Of an edicated band
Malindy's singing is described in such glowing terms; the speaker in the poem is enamored of her. Her singing provides a release and escape from the drudgery of the life of a servant or slave. For those moments, they are transported to a place very much like heaven.
I know that place well. I go there whenever I hear John Coltrane play "Central Park West." I take a trip there when I hear Erroll Garner play "I'm In the Mood for Love." I go when Cannonball Adderley and Yusef Lateef play "Gemini" and when Miles Davis and George Coleman play "Stella By Starlight." I vacation there when I hear Betty Carter sing "You're a Sweetheart," Nina Simone sing "Summertime," Billie Holiday sing "This Is Heaven to Me," Abbey Lincoln and Shirley Horn sing…well…ANYTHING.
I have been formally studying music for more than half my life at this point and I am still chasing Malindy. Being able to "sta't notes a-flyin'" up to this point has kind of eluded me (Oh, no! Dare I say it? I am Miss Lucy; music books and all! LOL!). But I REALLY want to learn. To make someone feel the way I feel when I hear Abbey or Sarah or Betty…that would be one of the greatest gifts in the world to give.
I have recently left my full-time job in order to have the time and the focus to practice in-depth all of the things I need to in order to reach the next level in my musical development and to channel my inner Malindy! My blog will be a journal of my progress. I invite you to join me on my journey.
BETWEEN THE LINES AND DOTS IS WHERE THE MUSIC LIVES…