Black Pizza…(Sung to the Tune of "Black Coffee")
Hi All!
Today's practice session got off to a great start. I went through my Anne Peckham warm-ups and I noticed that there is starting to be some improvement in my vocal agility. That made me smile! I did both the warm-up for all voices and then the beginning warm-up for high voices. Then I went through all of the Speech Level Singing exercises in part one of the Seth Riggs Singing for the Stars book. I felt really good after this although there is still some fuzziness in my low range. I was able to get through the tongue trill exercises much easier today with less of the weird gag reflex I sometimes get while doing these exercises.
Next I worked with the Jamey Aebersold Jazz Ear Training book and CD. I used this book as a text for my beginning vocal improvisation course at Howard University. I hadn't done any of the exercises since school let out in May and I was a bit rusty. I sang the arpeggios and scales for exercises #14 through #18; major, dorian minor and dominant scales. I found that my dorian minor scale was rusty! I gotta work that out. As I was singing through the scales, I found that because I did all of those speech level exercises at the beginning of the session, it was easy to maintain a nice even tone from the bottom to the top of the scales, no matter what note I started on in my range. NICE!
Next, I cued up my "Ornithology" transcription and sang through it at full speed about 5 times. There are still some places where the articulations need work and my syllable choices definitely need more work but it is coming along nicely. I thought I would be bored with it by now, but I'm happy to say that I'm not! That's a great feeling, too because it would be really hard for me to stick with it otherwise.
I opened up my Charlie Parker patterns from the solo in all keys and just worked on the first two. I had been working on all six pages of them at one time, but I didn't feel I was really internalizing them so I'm going to take them in smaller chunks. Wow…I just have to say that this practicing thing really does work! I'm noticing improvement in a short amount of time. Not to say that I'm ready to go out to a jam session and call this tune and blow on it, but I'm gonna be able to do that soon enough! I'm really trying to be patient with myself and relax in the process. It's gonna take as long as it takes. I've got to be patient with me.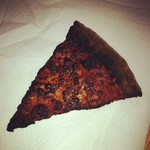 Moved on to work on my original composition. Yeah, it's taking me a LONG time to get this one finished. I don't quite know what the block is…I think I need to start with it tomorrow after my warm-ups so that my mind is clear and I have the energy to really concentrate on it. I got distracted tonight and started noodling on the piano and singing a melody and playing some chords when I was supposed to be working on my tune. I then realized that I was singing the words "hungry, hungry" over and over again. Yeah, it was time for some food! I put two pieces of left over pizza in the toaster oven and returned to the piano to practice. I forgot to turn the dial to "warm" on the toaster oven before putting the pizza in and before I knew it, I was smelling burnt pizza! My hubby came home right when I was taking it out of the oven. I offered it to him but he declined. LOL! He then started to sing "Black Pizza…" like the tune "Black Coffee." LOL! I ended up taking a break and eating something else while I watched a few minutes of "Star Trek: Next Generation" on Netflix. I am SOOO addicted to that show. I have the biggest crush on Data. Is that weird seeing as how he is an android? Oh well…
I'm gonna spend the rest of my time on finishing writing out this Ella Fitzgerald solo, trying to finish the lyrics for my tune and picking a Betty Carter solo to transcribe. I'm going to be doing a Betty Carter lecture/performance in March 2013 as part of the Washington Women In Jazz Festival and I need to be shedding this stuff starting YESTERDAY! I discovered this a couple of days ago:

Yeah. Betty. It's serious.
Goodnight, All! Peace.